Over the weekend the Drama Llama reared its ugly head at NBNN. The person who pulled out the Drama Llama was Torque. It appears that Torque wants a contract from NBNN to be the exclusive NBNN Germany person. The Drama Llama was thrown down by Torque when he started publically calling out Lazarus on Twitter and Facebook to make him the NBNN GER CEO and needing a contract.
A few of these tweets can be seen below, where Torque is asking companies for sponsorships for @NBNNNews Ger

from  companies like Razer, and nVidia.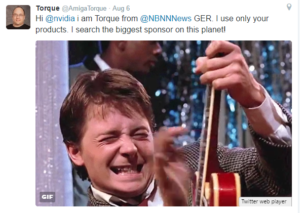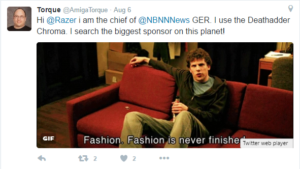 Problems could have been averted easily said Laz had Torque listened to him and waited until Monday to talk about business related items. Laz wants to live a Drama Llama free life with the ability to have fun with his weekend – even though, it is monopolized with Shroud of the Avatar related meetings. Instead of waiting, Torque started sending messages to Portalarium employees requesting that they intervene on his behalf to get a contract from NBNN. Laz wants it known that NBNN is a Shroud of the Avatar fan site and not affiliated with Portalarium, who makes Shroud of the Avatar.
Another way that this crisis could have been averted would have been had if people had joined DISCORD to talk with Laz about his need for a contract and what he planned to do.  Instead, Torque upped the ante in pissing off others by creating a video saying that Laz is trying to sue him and creating a twitter poll to see who is right about (the last update showed that people were siding with Laz.) Laz is not attempting to sue Torque, but Torque wants a contract to use NBNN Germany and to create a contract, Laz needs to contact a lawyer. It doesn't help resolve any of these communication problems when Torque messaged several lawyers on his Facebook account with an intent to sue NBNN for a shitload of cash – not realizing that NBNN is Laz's hobby (and Jack is here to have fun – not to mention that Laz doesn't have a contract with Jack either….).
As of yet, we don't have any resolution as to what is going on between Lazarus Long of NBNN and Torque. We shall see whether Torque continues to have a relationship with NBNN in the near future. Keep an eye out on twitter and on Lunch with Laz and Jack for further developments.